B-17s in IGN inventory
IGN's fleet of B-17s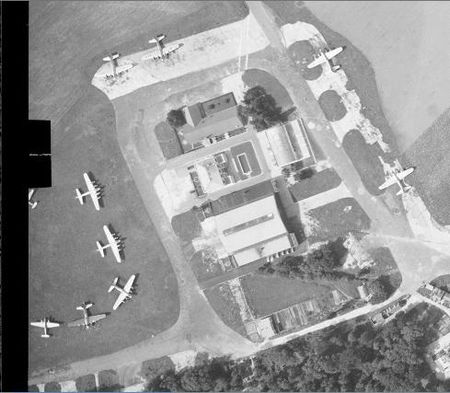 In 1955, IGN Flying Fortress fleet, in the above left, the grey B-17 is the only one B-17F in IGN service, but she have never been operate with IGN until some hours of flight (IGN)
Important note : if you want to send me pictures of B-17s in IGN use, please also give me a written statement giving me permission to restore them and put them online. Without this I can't do anything. Contact me through the message board of this site. This page was translated by Jocelyn Leclercq
I – B-17 : a stopgap machine
In 1947, F-BEEA in her new aerial photo duty
In 1946 the French Institut Géographique National (IGN for short) was set up to take over from the previous Service aérien des armies from the German occupation years, which was itself disbanded by the Germans. At the end of WW2, a complete listing of the destroyed areas of France was needed for the Ministère de la Reconstruction. To achieve this goal, IGN received some twin-engine NC701 Martinet (the French post-war version of the German Siebel Si 204). But this machine wasn't up to the expectations of an aerial pictures workhorse.
Still in 1946, IGN directors asked S.N.C.A.S.E. (Société Nationale de Constructions Aéronautiques du Sud-Est) to built a photographic version of their latest design, SE 1000. This was called the SE 1010. But delays were soon encountered with all the modifications from the original design. The, the flight tests brought new problems to be solved. In 1947, the yearly coverage of France is waiting for the SE 1010 which is still not coming through. IGN's direction thus decides to purchase some surplus B-17s on a temporary basis. It was then thought that the B-17s would be used until at least 1950. The crew was made of a pilot, a flight engineer acting as copilot, two photographers and one ground engineer. In WW2 a few B-17s had been converted for the photographic recce in Germany by the 9th Air Force. These B-17s will be used while waiting for the SE 1010s
Fortress F-BEEB wainting in USA to go to France
On 10 and 12 December 1947 the first two machines are purchased and taken on strength, 44-85643 and 44-85718, at Altus, Oklahoma. They receive French registrations F-BEEA and F-BEEC. F-BEEA registration is formally given on 5 July 1948, her owner being the Secrétariat Général à l'Aviation Civile et Commerciale (S.G.A.C.C.). On 24 December 1947 44-83729 is purchased, also in Altus, and will become F-BEED on 16 June 1948. At last on 20 January 1948 44-85733 is bought at Altus. On 16 June 1948 she becomes F-BEEB. On 11 March 1949 F-BEEB suffered an accident at Douala in Cameroon. The crew of 5 is killed. On 19 December 1949 43-39304 is bought as a replacement. She becomes F-BDAT on 21 April 1950.
In 1947, IGN arrives on a disused airfield, north of Paris, not far from Creil, on the territory of the village of Verneuil-en-Halatte. The site was already used during the first World War, and occupied in WW2 by various units, including the famous JG 2 "Richtofen". Then after the Liberation, the airfield is used as a logistical platform by the US Army Air Force. Up some C-47s were based there. So, in 1947, USAAF takes over the site previously used by JG 2 « Richtofen » sometime during the war and will remain there until today.
II – from temporary to permanent
On 1 October 1950, the SE 1010 prototype crashed during a test flight. IGN drops the project and will there keep its B-17 fleet for its photographic work. What's more, maintenance of the Flying Fortress is far less expensive than developing a new plane for this specific job. For example, in 1947, the first B-17s were bought for 15,000 $ with spares engines, and they hadn't even flown 100 hours !
On 25 July 1950 44-83757 is bought on the second hand market. She's registered F-BDRR on the following 16 September. On 12 December 1950, another tragedy strikes IGN when F-BDAT crashes, one year after her purchase, at Niamey in Niger. Several crewmembers are killed. After this loss, IGN has 4 B-17 in flying order.
In 1952 IGN begins to expand the fleet and stock of spare parts in the United States. 130 engines are purchased. On 12 July 44-83728 and 44-8889 are bought, becoming respectively F-BGOE on 20 October, and F-BGSO on 13 August 1954. On 23 August 1950 44-83735 is bought, still on the second hand market. She receives F-BDRS civilian registration on 30 December.
After these new arrivals conversion for their photographic duties, another batch of B-17 is acquired in 1954. On 28 September, 44-85594 is added to the IGN fleet, becoming F-BGSQ on 8 October. On 31 October, 44-85784 is bought, to become F-BGSR on 31 December. On 7 December 44-8846 is purchased. The latter has the distinction of having been bought directly from the U.S. Ministry of Defence, the last one gained from this source. She's destined to become F-BGSP. On 16April 1955 42-32076 is bought to an American company while she already has many flying hours under her belt. She becomes F-BGSH following a lengthy conversion to IGN's needs, on 5 March 1956. French civilian aviation registers show that the maker of this aircraft is Briggs, while they were actually only manufacturing the upper turrets ! On 13 May 1955 42-30177 is transferred from the Armée de l'Air to IGN inventory, following an accident in Germany. The Flying Fortress is repaired to enable her to fly to Creil, where she undergoes a full conversion to IGN standards, making her jump from the F to the G version. She therefore is recorded as F-GBSG but IGN seems to have no real need for this aircraft, and wants to save the stock of spare parts. This is the peak of the B-17 fleet in IGN, 12 altogether, 11 in full flying order.
Flying Fortress F-BEEC, in France on the early 1950's she was the most unluckiest B-17 of the IGN service, from 1947 to 1984 she had more then ten accident with IGN but she was always repaired. On this picture the plexiglass is an original Boeing's product, but later it was destruct in an accident, an other one was build for her
III – lack of spares and end of service
From 1958, the first B-17s bought on the second hand market in the United States are retired : F-BDRR on 9 September 1958 after 8 years. The Flying Fortress is prepared for long time storage, her engines and transparent nose removed. On 9 July 1959 F-BEED is also stored after 12 years of service. On 15 June 1961 F-BGSH is taken out of business after 5 years. She's also stored, like all other IGN B-17s. On 22 August 1967 F-BGOE ends her 13 years of flying and IGN still has 7 B-17 but experiences difficulties in finding spare parts, despite the high standard of the ground technicians.
On 25 August 1969 F-BGSQ is retired. At that time, the B-17 has become a difficult and expensive aircraft to maintain. What's more, newer machines have been put in service, like 8 Hurel-Dubois HD-34, 3 Aerocommander 680FM, and lastly a few jets, in the 1970es. Even an helicopter. In 1970 F-BGOE is scrapped. On 23 January 1972 F-BGSH is given to the U.S. Air Force. On 2 February 1972 F-BDRS is retired after 20 years of service. The same year F-BDRR and F-BDSQ are scrapped. There are only 5 airworthy B-17s by then, and 3 in storage. On 6 June 1973 F-BGSR is retired, then in August F-BGSG is scrapped without having served. Her civilian registration had been cancelled then given again on 24 March 1963. That same year F-BEED is scrapped after her nose was given to F-BGSH. On 7 June 1974 F-BGSO is retired. In 1975 2 planes are sold : F-BGSO on 20 January and F-BDRS on 24 May. F-BEEC also ends her flying career.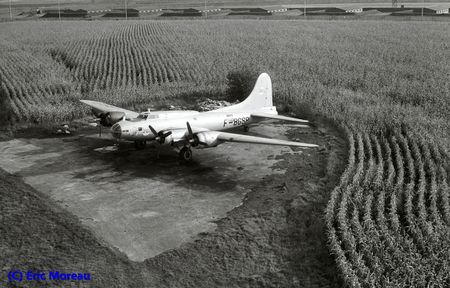 In October 1980, 44-8846 F-BGSP is in storage at Creil, she's go back to the air in 1984 to fly over the Champs Elysées on the 14th July parade
On 8 September F-BGSO makes her last flight toward the Musée de l'air et de l'espace du Bourget. On 27 August 1979 F-BGSP is also retired but maintained airworthy. On 10 April 1987 F-BEEC is sold out, registered in U.K. then ferried to the United States. IGN then only has two B-17 in use. F-BGSP is put back in flying order, and makes a flypast over the Champs-Elysées for the 14 July 1984 military parade. A 1500 manhours effort was needed for a 45 seconds flypast over the famous Parisian avenue. In 1985 F-BGSP is registered as a vintage aircraft, becoming F-AZDX in the end). Two years later she's given to association Forteresse Toujours Volante, which is in charge to keep her airworthy and display her. At the same time, IGN keeps F-BEEA, her very first B-17. In 1989, F-BEEA joins F-AZDX in England to take part, with other flying B-17, several having previously flown with IGN, to the making of Hollywood movie "Memphis Belle" Soon after the beginning of film shooting, F-BEEA takes off alongside F-AZDX, but suffers from the turbulence of the latter, and then makes a violent forced-landing at Binbrook. The B-17 burns fiercely on the ground and is totally destroyed, luckily with no loss of life. She counted by then 42 years of flying. This loss marks the end of the IGN use of the B-17.
In 1984 at Creil, the three last Flyable B-17 of IGN, from the the left to the right: 44-8846 F-BGSP (Pink Lady), F-BEEA (Chateau de Verneuil destruct in a crash in 1989) and G-FORT (F-BEEC) who Became Later "Thunderbird" with the Lone Star Flight Museum.
IV – conclusion
In 1987, the two last B-17 in IGN service took a low past over Creil top F-BEEA above F-BGSP. On a few days later, F-BGSP became F-AZDX with "Forteresse Toujours Volante", at this time she was named "Lucky Lady" but later she was named "The Pink Lady" and "Mother and Country"
The B-17 was purchased as a stopgap measure for 4 or 5 years, for a 3 years replacement period for the IGN. Eventually, B-17s were used for 40 years despite the growing lack of spares. IGN ground crews maintained the fleet as a labour of love, making the biggest efforts to attain this. B-17s left a deep mark in the memories of the aircrews, many never found elsewhere the feelings provided by the Flying Fortress, like the safety in the air. The many incidents in flight never stained this high reputation, even when one of the IGN machine lost a propeller in Guyana. Engineers and aircrews of F-AZDX were themselves trained by former members of IGN. According to the IGN, no machine ever fully replaced the B-17. Since the end of the 1980es the job is carried out by Spot, a satellite.
Now, B-17 "Pink Lady" totals more than 10,000 flying hours and her reliability is praised amongst the last 13 still airworthy. Even if she'll never fly again.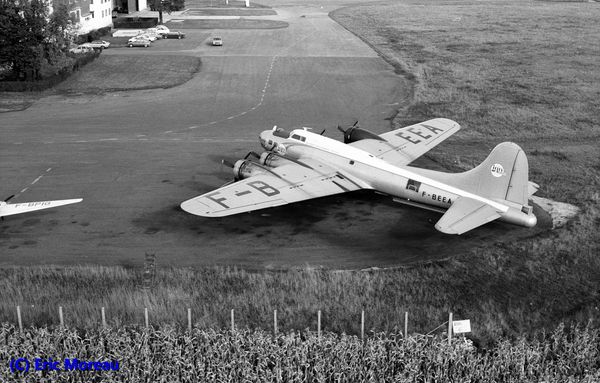 F-BEEA in october 1984 at Creil
This page is dedicated to all engineers, pilots and aircrews on B-17 in IGN service.
Commentaires sur B-17 Flying Fortress story in french IGN service